Review – Be protected from insects with Haeleum
Doing something out of the ordinary helps keep us inspired as we hustle and bustle through our daily grinds.   I enjoy the outdoors and working out, so I planned a backyard camping day with Hercules.  It has always been on my to do list.  Camping out in your backyard is very easy to set up.  All we need is a tent, a backyard, a Haeleum shirt with insect shield repellent and sun protection, and twinkling lights to have that extra oomph at night 🙂 
What does Haeleum offer?
The beauty of camping out in your backyard is that you can hang out in your neighbourhood, and enjoy a quiet getaway in your very own backyard.  We spent the day working out and doing some partner exercises in the neighbourhood while wearing my Haeleum shirt. I love apparel that is stylish, easy to maintain, and versatile with functional features.   This piece of clothing has all those attributes! I love the v neck-cut that gives it a slim fit look.
It also comes with 40+ UPF sun protection, which helps when I am outdoors working out. The fabric makes it quite comfortable to run under 32 degrees weather.  The insulating and moisture wicking material absorbed my sweat keeping my body feeling cool and dry.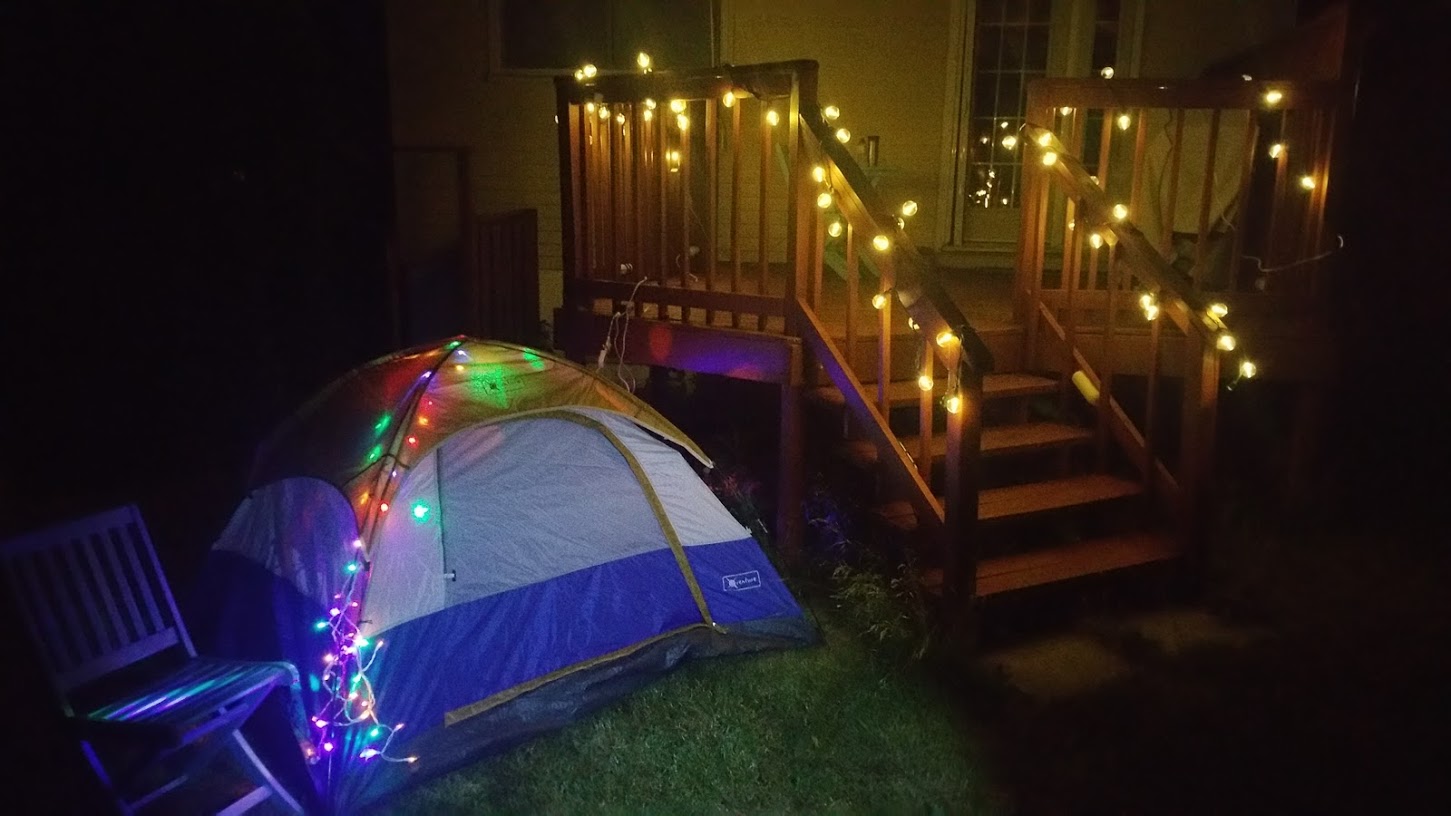 We returned to the backyard in the afternoon. The insect shield repellent technology caught me by surprise.  The feature is built into the shirt, so there is no need to use a bug spray.  It is also convenient because no re-application is necessary.  Insect shield apparel is approved by the United States Environmental Protection Agency. You can read more about the information on their website –> Haeleum.com/insect-shield.   Not only can it keep you from those annoying mosquitoes, ticks, ants, flies,  and no-see-ums, it can also protect you from Zika virus.  I wished Hercules had a Haeleum shirt because he is prone to get bug bites.  Luckily, I wasn't bothered by any bugs while we were in the backyard during the day and at night. 
What is great about this product?
The insect shield repellent technology is long lasting, and can sustain up to 70 washings (no dry cleaning though).  This feature is definitely a bonus if you're passionate for outdoor adventures.  I tested this shirt in the city, so I would recommend using a bug spray for exposed skin if you're in heavily bug infested areas. 
Where can you purchase one?
 Visit their website at Haeleum.com for more information!
Disclosure of Material Connection: I received Haeleum – insect shield repellent apparel for free from Haeleum in consideration for a gear review.  
Want to start running, but you don't know where to start? Meet Sara in this blog post to learn how she went through her learning curve, and created a running club in her community.