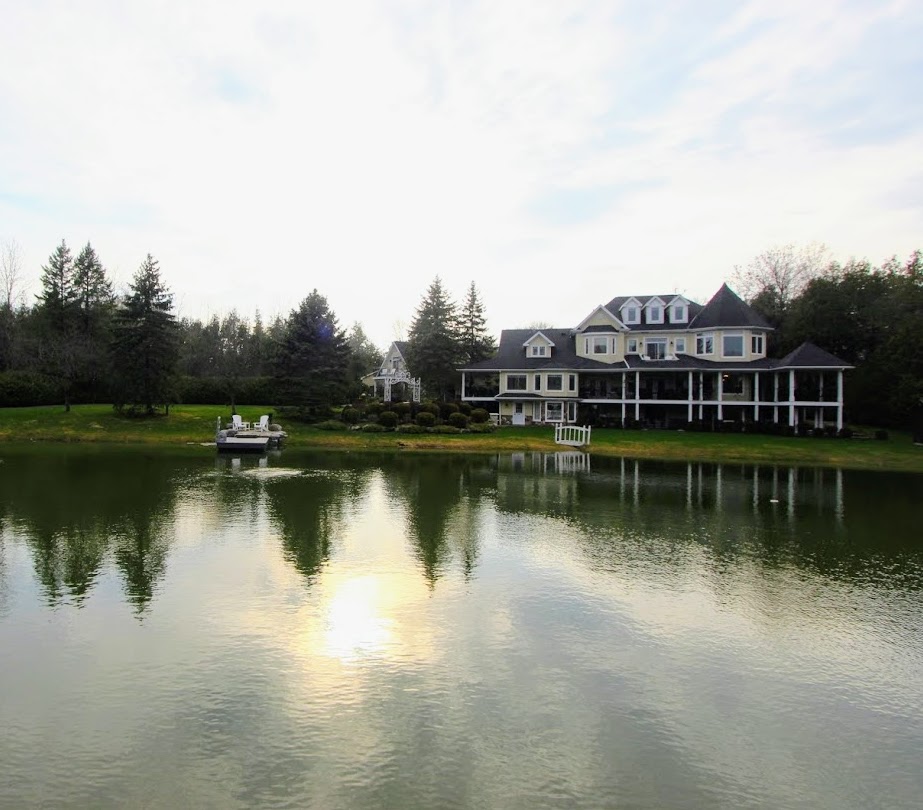 Pencil drawing to an estate – Meet Deborah at Nestleton Waters Inn
My husband and I stayed at the picturesque Nestleton Waters Inn over the Easter long weekend. What an unforgettable bed and breakfast experience! Delicious foods, late night conversation with friends, and singing at breakfast overlooking a breathtaking view made our stay such a delight.  It was a treat to meet Deborah, the owner and operator of the Nestleton Waters Inn.   Her genuine sharing has encouraged me to continue developing my passion and "find the fun that keeps family, friendship, and faith" in my life.  I hope you'll enjoy this interview!
What do you love?
My family, being close and sharing life together, writing poetry, and songs that speak of my faith journey.  Love traveling and exploring hospitality in different cultures. Love architecture and learning what kinds of designs and colors inspire tranquility and reflection as well as joy.
What do you hate?
A mess and feeling overwhelmed with clutter. I taught my kids when they were little that if you buy something, give something in good condition away to bless someone, so stuff doesn't invade your space. There's joy in having something new but there's also joy in giving and blessing others too. Receiving and giving keep things in balance.
What gets you going?
I like to read "Daily Bread" an e-inspiration with a story and thought for the day and verses from the Bible. I like to take inventory of what's going through my mind and heart, and take time to lift my needs and cares to God so everything doesn't overwhelm me. It leaves me feeling more focused for the day.
What inspired you to build Nestleton Waters Inn?
A beautiful pencil drawing that my husband, Erik, dreamed up of what an historic estate would look like perched on the edge of the pond and trees on his family's property.
And how did the idea come to fruition?
We encouraged Erik to build the dream. He and his Dad took it on as a father son project. They didn't give up until every part of that drawing was built from inside to outside.  Four and a half years later it was finally finished! Erik's never reopened his construction company. He's stayed on and continues to reinvent Nestleton every year with upgrading touches that keep this place magical and inspiring.

What were some of the challenges along the way?
There are not enough hours in the day when you are a small business owner.  Simply keeping up your strength is a challenge. When you live in an Inn people think it must be amazing to live at a gorgeous property, but you're the ones who have to keep the property gorgeous, the grounds, gardens, the painting, the laundry, cleaning, etc. You are the last ones to go to bed and often the first up. Guests are here to chill out and get refreshed.  As the owner, you have to be calm and generous to all your guests all the time, even if you woke up with a headache.
What kept you going during those times?
We are blessed with wonderful staff.  Their exemplary spirit and passion remind us over and over how blessed we are to work with them and have their friendship, and their expert skills. They constantly keep us encouraged and laughing through the hard times. Their gentle reminders of how things were and how we've grown keep us focused on what matters. Also, our kids are wonderful supporters and keep reminding us that they are proud of their parents and proud of their grandparents. That's pretty humbling and special.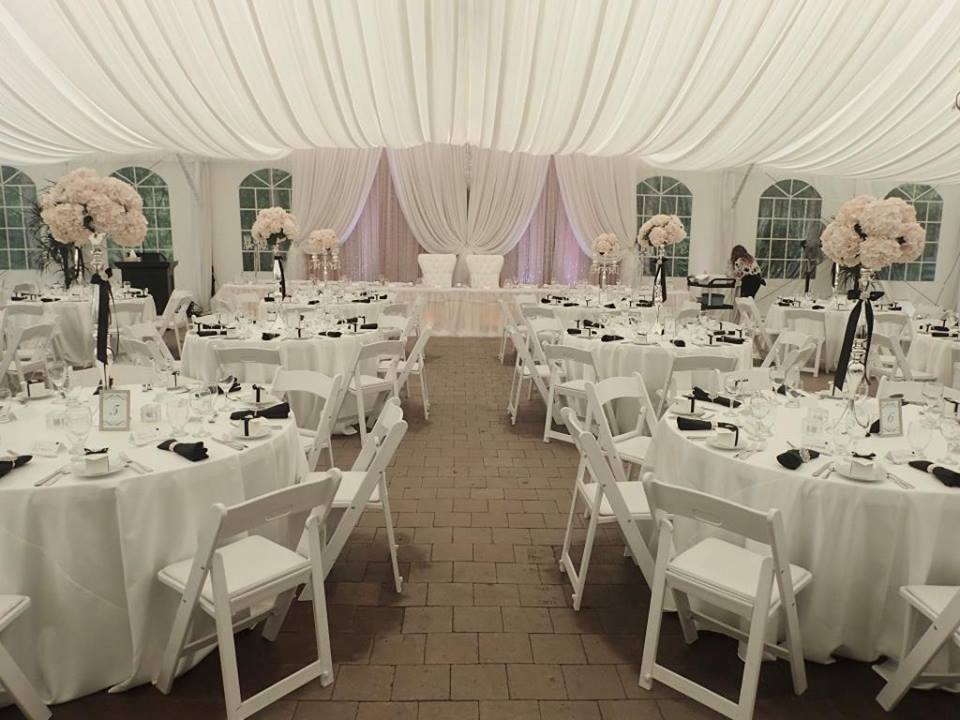 On the website, it mentions that the "community came out in droves" to help complete the final touches. How did that happen?
We were close to completion but not far enough and our first guests were due to arrive. I finally sent out an email with a specific to do list and some prayer requests. We were surprised when friends took time off work and brought picnic lunches, and parked themselves at the Inn to unpack and assemble chairs, calk showers, install phone systems, move furniture, hang pictures and put on sheets.  We literally just finished when the first guest vehicles arrived. We will forever be grateful to our friends and church community who gave so sacrificially to help us open our doors.
What aspect of the business brings you the most joy?
Sharing people's special moments!   This week it was an 80th birthday celebration.  Watching a mom takes her son (who's about to be married) around the property and exclaim how perfect the setting will be for hosting their travelling friends and family.  Easter singing songs with friends and sharing dinner together. This business is relationships, caring, and breathing loving refreshment into the lives of people who need to detach from stress, and connect with peace. I love the grounds and gardens, the fields, the woods, and the wild animals (otters, geese, turkeys, and deer).  It's soothing and reminds me the world is special no matter how crazy and busy life feels sometimes.
Could you share 1 or 2 memorable stories about your customers?
Vision casting from a friend
When Nestleton Waters Inn was still an idea, there was a friend named Tina who shared a newspaper clipping with us and helped cast the vision of what the Inn could be.  As we actually began to build the Inn, there was a point where we ran out of funds to complete the carriage house. This same friend showed up at our home with her husband, and offered some funds that she had that she wasn't using just in case we needed more resources to complete the Inn.
Funds to complete the Inn
She shared that watching us actually build what started out as a dream was so inspiring to her and she wanted to be a part of helping finish it. She had no idea we needed funds as we hadn't shared this with anyone. The amount she offered was the exact amount we needed to finish our Carriage House. We finished the Inn and paid her back within one year.  
New landscaping
She later surprised us when we came back from a much-needed vacation, with some new landscaping. She had a gift for doing landscaping and was very good at it. She'd done all the labour herself and would take nothing for her costs. Once again she shared that our labour of love building the Inn from a dream was her inspiration to help us while we were on vacation. She later passed away and her husband bequeathed some beautiful Victorian art of hers that is now featured in our Hayden Suite, saying that she wanted us to have those pieces. One of the pieces is a gold frame around art that features a mother playing with her two children who are sailing little boats in a pond. The inspirational quote says, "Every good and perfect gift is from above." James 1:17
The most valuable thing about this Inn has been the environment to learn our gifts, to share them with others and to be a place where others can also share their gifts. 
We have photographers, bakers, chefs, DJs, musicians like harpists or steel pan, florists, decorators, and so many more gifts that are shared. At Inn celebrations, guests share their laughter, tears and memories, in speeches, songs, videos, slide shows, vows, prayers, blessings, dances, and so many other creative ways. These are all good gifts, and it's pretty amazing. It fills me with thanks, thanks to God for helping my husband and I, our parents and our kids stay sane through all the challenging years building, and learning how to operate the Inn, until today.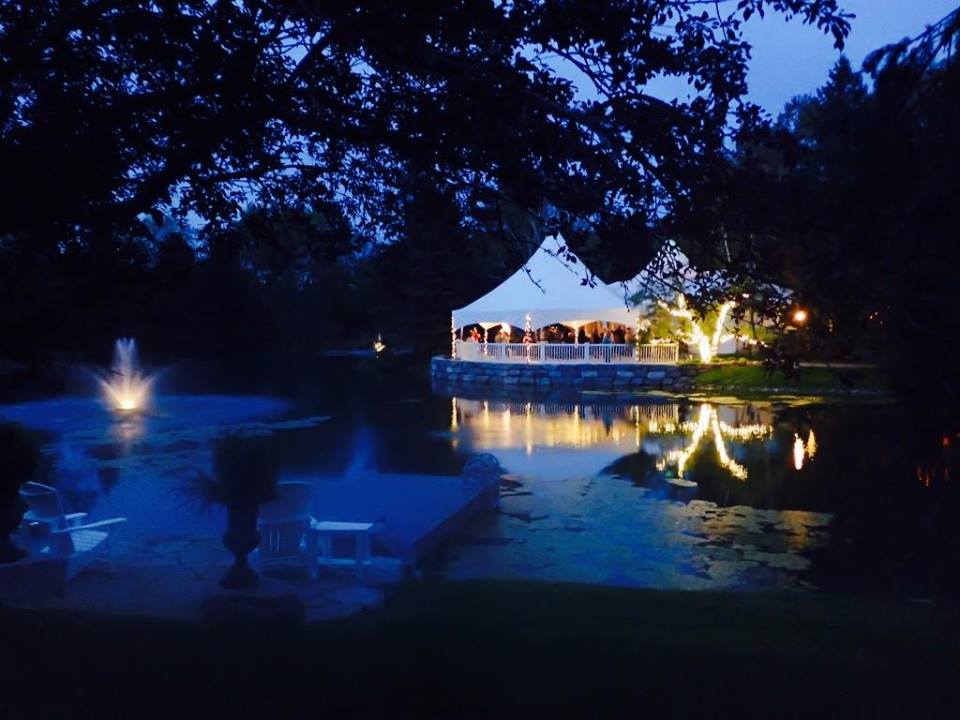 You have so much experience with different cultures. How has that helped in building your business and connecting with people? 
My parents were missionaries in Africa.  My husband's parents volunteered in South America and Nunavut. Later my husband Erik and I had the privilege of working in the Philippines, and volunteering in different communities ourselves. We learned early on how to live life in a community, sharing water, food, lessons, culture, and friendship.  Some of the most giving people we've met, the most hard working, and some of the most joyful, were people who had the least opportunities but trusted God to multiply their meager resources. It was humbling and it made my heart grow. We determined that every year Nestleton Waters Inn would pay for a water well in a developing country and that we would sponsor orphans, farming cooperatives, and other charities both locally and internationally.  Thankfully we've been able to continue that passion each year.
What advice would you have for people pursuing or finding their passion?
Find the fun that keeps family, friendship, and faith, in the mix of your life.
This is the spirit of what you do and hard work without a defining spirit can cause you to eventually lag in passion or lag in pleasure without it. It's surprising the number of successful people who can still disassemble their success and implode because along the way they lost that balance and forgot what they started fighting for.
Do you have

a

favourite inspirational quote to share?
"Every good and perfect gift is from above."   My mom used to always tell me that same verse as a child too. Unfortunately, she passed away before the Inn was finished. I know she would have loved Nestleton Waters Inn, so I designed the Morgandy suite (Morgandy is Celtic for "Little One from the edge of the Sea") to remember mom.  It's a seacoast theme with distressed woods, powder blue, ships, shells, and lighthouses. She grew up on the seacoast and never forgot the simple fun of gathering clams on the beach and making homemade clam chowder and singing and playing songs on guitars and accordions with friends from her little Quaker church.
Sometimes good and perfect gifts are so simple and innocuous, a ray of sunshine through the clouds, a child's smile, a husband's hug, a friend's laughter, but we all have such wonderful gifts in our lives and they are perfect.  And if you're getting dragged down, look up. You're loved by the One who gives good gifts.
Visit Nestleton Waters Inn @NestletonWatersInn on Facebook for more pictures and stories. Or their website at www.nestletonwatersinn.com