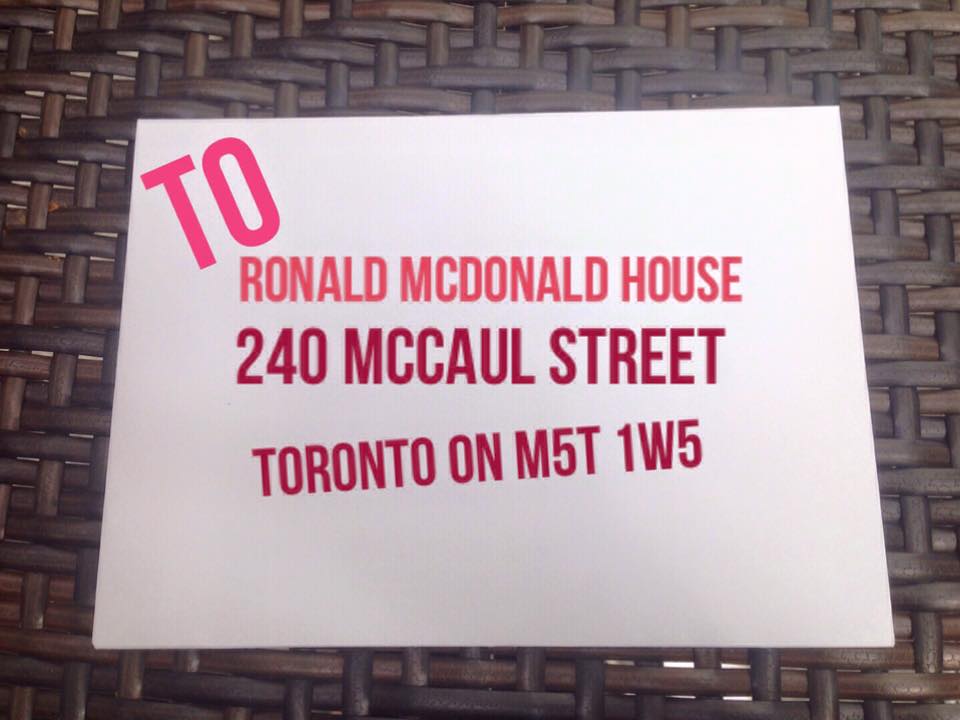 Ronald McDonald House #McHappyDay
Ronald McDonald Houses are located close to nearby hospitals and medical centres. Their primary mission is to offer out-of-town families with seriously ill children a "home-away-from-home" experience.
Thanks to dedicated staff and volunteers, families can focus on caring for their children   while going to work, trying to pay bills, and managing other competing demands.
You can be part of the care team to help meet their day-to-day essentials! One of the ways to be involved is to join their Home for Dinner Program. Here is a group of friends who gathered on a Saturday afternoon to host a dinner at Ronald McDonald House Toronto. Check out Derek's video!
Want to form a team? Getting a group of individuals together is very easy. Here are some tips to help you!
1) Form a group 
Round up 10 to 15 people!
2) Assign a lead person
Find a point person to facilitate communication between Ronald McDonald House and your group of friends.
3) Reach out to your local Ronald McDonald House
A Program Coordinator will welcome you to the team!
"Thank you for your interest in supporting Ronald McDonald House Toronto. The Home for Dinner Program is a huge relief to our families, providing them with a home cooked meal after a long day at the hospital."
4) Reserve your date
It's best to reach out early to reserve your date, especially if you're planning to visit on the weekend. Weekend slots could fill up fairly quickly. The Ronald McDonald House Toronto offers community members to host dinners three days a week, and one on the weekend.
 Tip: Ask your group to reach a consensus on 3-4 available dates prior to contacting Ronald McDonald House. This will save you time on coordinating. Doodle is a great tool to help you!
5) Read the Safe Food Handling and Home for Dinner guide
The Program Coordinator will provide information to your team. Make sure everyone on your team reads the Safe Food Handling prior to reading the Volunteer guide. The volunteer guide offers everything you need to know about planning a menu for a crowd! Did you know up to 135 people can show up for dinner?  Get ready!
6) Pick your menu
The Home for Dinner guide comes with some menu options. Or, you could design your own  menu. Be sure to keep your Program Coordinator abreast about your choice of menu!
7) Team up
It's best to split your group into sub-teams.
Grocery Team – Responsible for looking at fliers to get the best deal for your groceries!
Cooking Teams – Who will make the main dish? Who will make desserts? Who will make appetizers?
Clean Up Crew – Who will clean the dishes after dinner?
Tip – Time goes by fast in the kitchen! Assigning everyone a role prior to the day of your visit will maximize your prep time.
8) Logistics of the day
A few more things to keep in mind when planning for your day. How will you transport the foods to Ronald McDonald House? Do you have coolers? Will everyone be carpooling, or taking the public transit?
Now you have all the tips to help you host a dinner! Contact your local Ronald McDonald House today and send your encouragement along!
"I am often so humbled and overwhelmed by the generosity of the volunteers. I still remember many of them though I met them only once. And the impact of their giving lasts longer than a meal. Thank you sooo much!!!" – a mother of a young child expresses her gratitude to volunteers