Let go of logic. Meet Derek, the founder of Twisted Inflations
What did you want to be when you grow up? Do you still remember? In our ever-changing economy, we begin to see more individuals taking up unconventional vocations that surprise and delight us. They stop you in your tracks, and you find yourself asking, "wow, THIS is what you do?"
I think of individuals like Derek who is a world-class balloon artist. When I first learned about his work, I was intrigued to find out more. We were thrilled when Derek said "Yes!" without hesitation when we sent him an invitation for a featured interview.
I've never met Derek in person. From our conversation on the phone, I can sense the genuine passion in his voice. He's also extremely approachable, and willing to share his experience with the world. Thank you Derek for your sharing.
"Derek, what is your must have item at work?"

"Balloons, of course!"
Twisting balloons was not a sought after skill for Derek until a change happened in his life.  Looking at his portfolio, I am blown away by his creativity. Derek is a certified balloon artist in Toronto, and part of Canada's first national competitive balloon twisting team known as Canada's Twisted Team.

As a father of two young children, there is never a dull moment at home or at work. When I asked what he loves, what he hates, and what gets him going, this is what he says:

"I love my wife and kids. I love exploring different destinations, especially places with quiet scenery.  Australia is on my list, although the distance makes it a bit difficult to travel there with my family. I've been to Japan a few times, but I would go there again in a jiffy."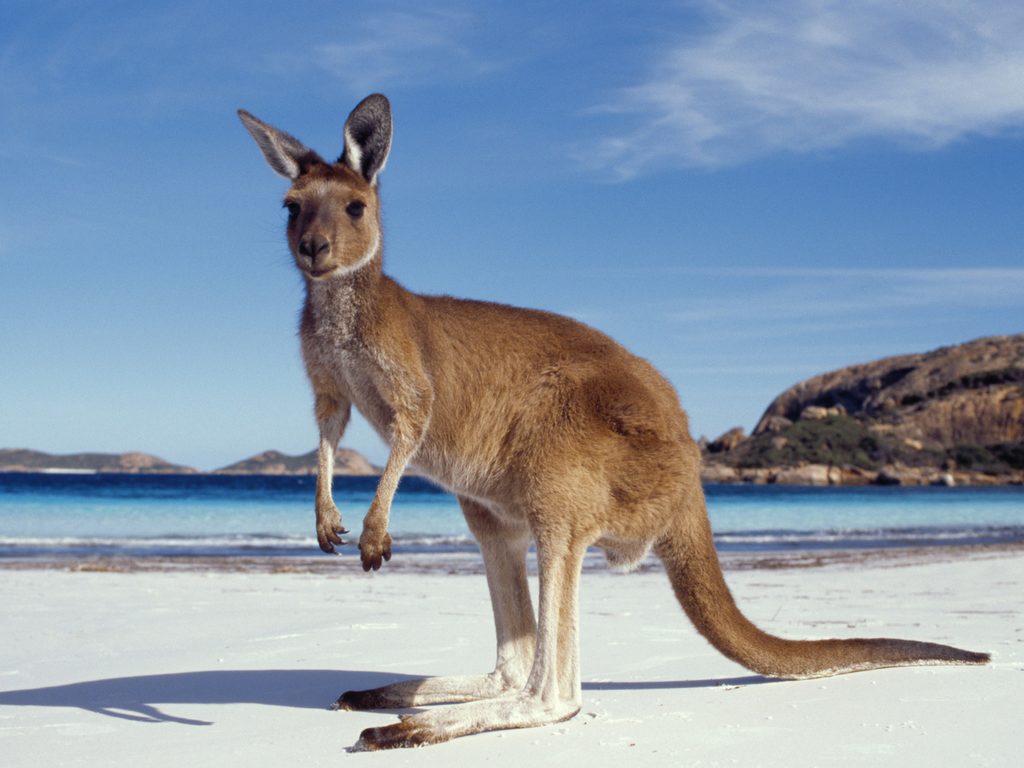 What does he hate?
"I dislike durian.  I don't enjoy office work."
What gets him going?
"I get excited when I come up with a visual concept, then seeing the idea unfold into reality. It's a special feeling when I receive compliments from other balloon artists."
Derek created Twisted Inflations in 2013. What was Derek doing before becoming an award winner at multiple balloon competitions, or "wowing" people with his special balloon twisting talent?
"Back in the day, I was an IT dude working in an office next to a server room. For security reasons the office had no windows, just walls. So you could imagine it was quite a depressing work environment. My turning point happened when my position was outsourced.  Eventually I was laid off. I was no longer needed. I became unemployed.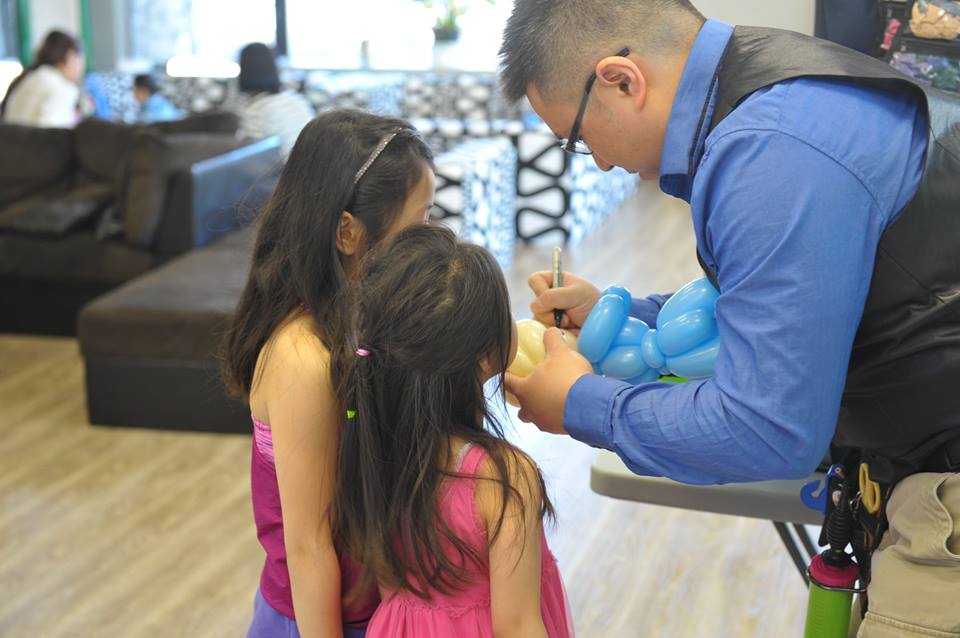 "At the time, doing  magic tricks was my favourite past time hobby. I had very little exposure to twisting balloons until I met a balloon artist at a kiddie's birthday party.  I saw what he did with his balloons, and I immediately got hooked into it.   It didn't take me long to start learning on my own.  I searched for tips and tricks on YouTube.  The idea of starting my own business became more solidified as I got more into it."
What a change from waking up in the morning and heading to work as an IT specialist to becoming a balloon artist. For Derek, the most drastic difference in what he's doing now compared to before is the way he solves problems. Working in the IT field, he relied heavily on logic for resolution. Now, he has to let go of logic and embrace creativity.  
"Don't be afraid to go crazy even if it doesn't make any sense."
Derek was excited to be a part of the team that created Kayloth the water dragon at the Kitchener City Hall. Look closer at the intricate details forming the head. It took Derek 16 hours to create it! The dragon's mouth blew water every time kids walked by to pull the water lever. This is simply amazing!
Along with this change of mindset, he also shared that income and working hours weren't as steady as before. So why did he continue?
"Choices were limited in the past, but there are more opportunities for me now.
At the beginning of my journey, I had to learn how to do business sales. It was both interesting, and frustrating at times. I want to spend more time on the creative side, but at the end of the day I have to work on the business to make money. I also don't follow the 9-5 routine. This new life has provided flexibility to take care of my children at home. After midnight when the kids are asleep, that's when my spontaneous creative moment happens."
It always seems impossible until it's done.  And it was! Derek had to juggle a gazillion tasks. Here's a story of a challenge he had to overcome.
"When you start a business, there are competing priorities. Get the income for the month. Put food on the table. A more interesting challenge is for your customer to understand the value of your business. It could come to a point when you have to ask yourself if this is the ideal client for you. This could be a depressing and discouraging experience. What I've learned is the importance of focusing on my work, and the value I bring to customers.  The friends I've met in this industry are very supportive. We are a tight knit group. The encouragement from my community helps to overcome these challenges."
Derek is proud to be a member of Canada's Twisted Team. The team members stayed connected with each other on Facebook after crossing paths at balloon conventions. These great talents decided to form a team to compete internationally.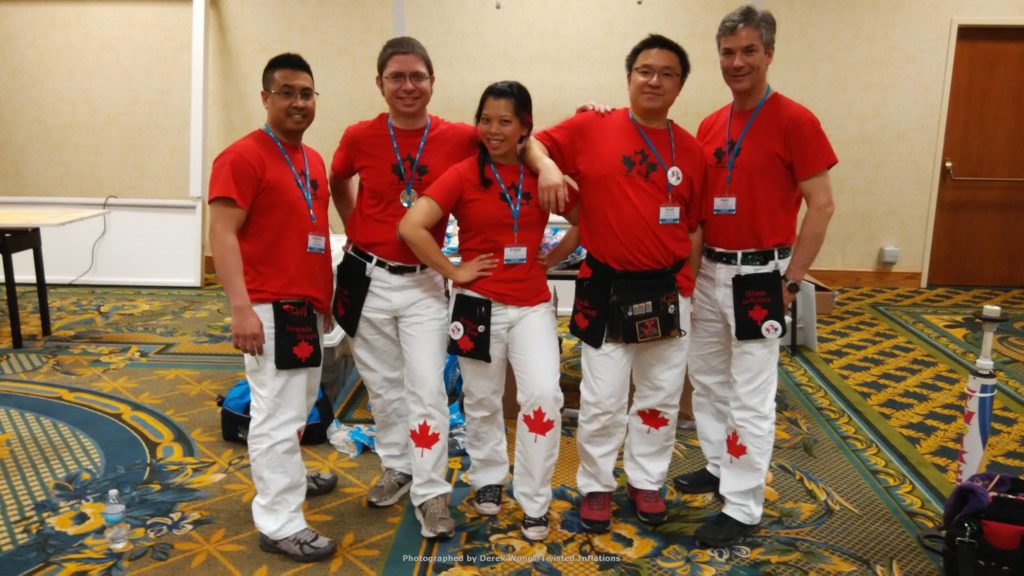 Their first competition at the 2016 World Balloon Convention in New Orleans won the Bronze Achievement.  This event happens twice a year, and never had Canadians at the show. Talk about the power of teamwork!  
This is a 2-part interview with the founder of Twisted Inflations, a business that specializes in balloon sculptures, art and decoration. Be sure to come back for part 2 of the story. Derek will share his tipping point to success, how he stays innovative, and three tips on landmines to avoid when building an idea. Stay tuned!  
What do YOU love, what do YOU hate, what gets YOU going? Inspiration is at every corner. What is the one thing you can do differently today to take your passion one step further? If this is  your first time visiting Whereisjupjup, read our stories and let them Jup You UP!