3 Landmines to avoid. Part 2 – Meet Derek from Twisted Inflations
Here is part 2 of the interview with Derek, the founder of Twisted Inflations. His business specializes in balloon sculptures, art and decoration. Catch up on part 1 here! Since we last chatted with Derek, he had travelled to Orlando Florida to compete at the 2017 Twist & Shout competition with high caliber balloon twisters.  His entry won first place in the large sculpture competition, and he was also placed second in the medium entry.  And guess who also brought home the title "Top Twister" of the year? Congratulations to Derek! What an accomplishment in one month's time!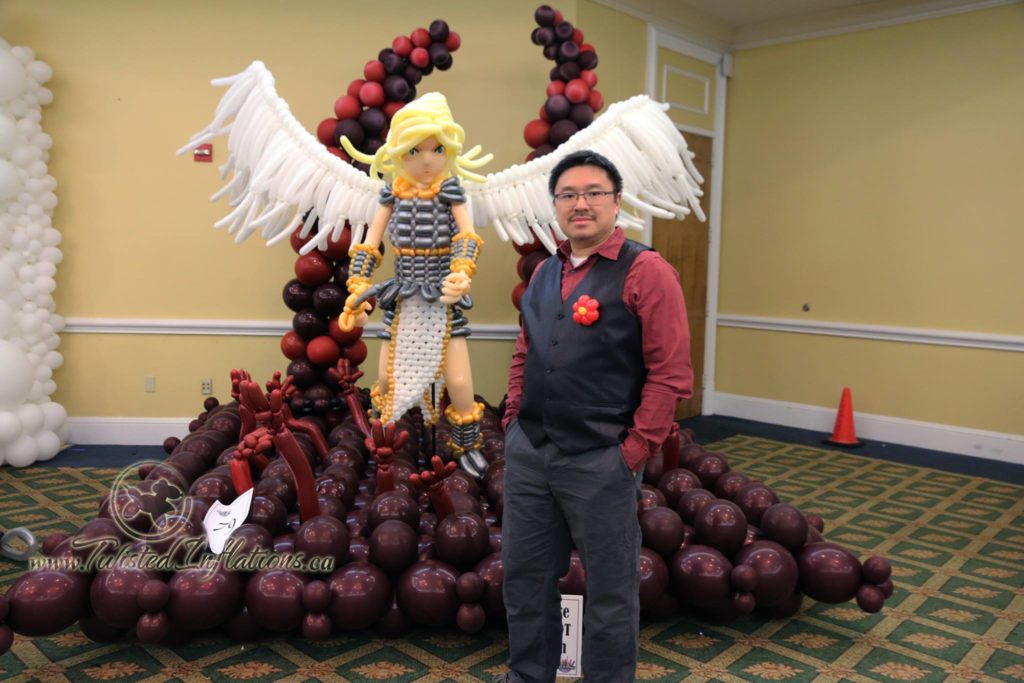 One thing you would notice when you visit Derek's Facebook page is the slew of awards he has won over the years. From getting his first customer to winning his first award, what was Derek's tipping point to success?
"It takes about 3 years. From what I've seen, you can make a living if you work hard in this industry. The real tipping point for me was when I signed up for competitions. Initially I was twisting balloons at birthday parties. Then I found out about these balloon competitions happening around the world, and what people can create with balloons. To challenge myself, I would try to create something similar as the winners. I started showcasing my work to the public. I joined more competitions. As I keep on pushing my creativity to the next level, my confidence becomes much stronger."
In Derek's own words, success is doing something that he likes. "I'm happy most of the time. I think I am more successful in this way."
When you visit Derek's Facebook page, you'll be taken aback by his wondrous creations ranging from life-size displays to decorative elements at parties.  What was his most memorable experience?
"I still remember this moment. I was twisting balloons at a church event. A young boy came up to me.  He paused.  
Looking puzzled, he asked, "Are you a clown?"

"No, I'm not a clown. I don't even look like a clown." I wasn't dressed in a clown suit.

"Then, what are you?"

"I'm a balloon artist."

He looked very confused. Shortly after, I finished his request. His face brightened when I handed him the balloon.  "Wow, you are really an artist!"
These words came from a five-year-old mouth. It's so precious!"
"I love seeing photos from my clients. In this photo, the theme at the party was rainbow unicorn. So I made her one using balloons. Her mother was so delighted that she sent me these photos with her daughter's big smile holding the unicorn." 
Derek's design never repeats itself. I'm dying to ask how does he stay innovative? Where does his inspiration come from?
"Most of my inspiration comes from everyday life."
"I met an artist from Kitchener who combines his mechanics background in his artistry. He would build robots using balloons around the skeleton to make them come to life. I also get inspiration from the Internet and interacting with others. I take every opportunity to join conventions to play with other artists."
Last year, Derek joined a May challenge.  Participants must post a balloon art everyday before 12 am to match the theme of the day. If you post at 12:01 am, you are out! He decided to go for it, although he was hesitant at first to sign up.  This was an excellent opportunity to challenge himself to come up with a unique idea every day.
Derek has worked on many amazing projects with other balloon artists. I am curious to ask for some tips on ways to make ideas flourish. A lot of times, many great ideas don't make it to execution. He shares three landmines to avoid when brainstorming an idea.
#1 Don't be afraid to go crazy even if it doesn't make any sense.
"I've worked with others who shy away from trying new things. They might not want to use too many balloons in their work. Being hindered by boundaries will not help you reach new heights. I have a lot of respect for one artist who filled up each balloon with water for her sculpture. She twisted each one to make an aquarium. Who would ever come up with that?"
#2 Don't be worried about the return.
"Not everything will have a monetary return. If our eyes are only set on money, innovation will not have a role."
#3 Don't work alone. Hang out with like-minded people.
"I'm fortunate to have good friends in the industry with similar mindset about arts."
One of his goals this year was to compete at the Twist & Shout competition.  Now that he has earned the title "Top Twister" of the year at the convention, he can focus on his other new year's resolutions. Derek wishes to put in more hours instructing this year. He'll be hosting workshops in the States, Banff, and Montreal. Be sure to follow his adventure @TwistedInflations!
We wish Derek success as he continues on his balloon twisting adventure. His favourite super hero is the Iron Man. We all know that Iron Man is known to create unique inventions that are highly complex and precise. We look forward to seeing Derek's imagination being transformed into balloon form!  
Jup's Reflection
We want to thank Derek for his genuine sharing! We had anticipated our chit chat to be about 30 minutes, but we talked for close to an hour. It's truly amazing to see that being discipline with an open mind can lead you to a whole new path full of surprises.  Jup You Up wants to motivate everyone to take 1 action after reading each story. For us, Derek's story has encouraged us to participate in writing contests. How about you? What is that one thing you've always wanted to try?