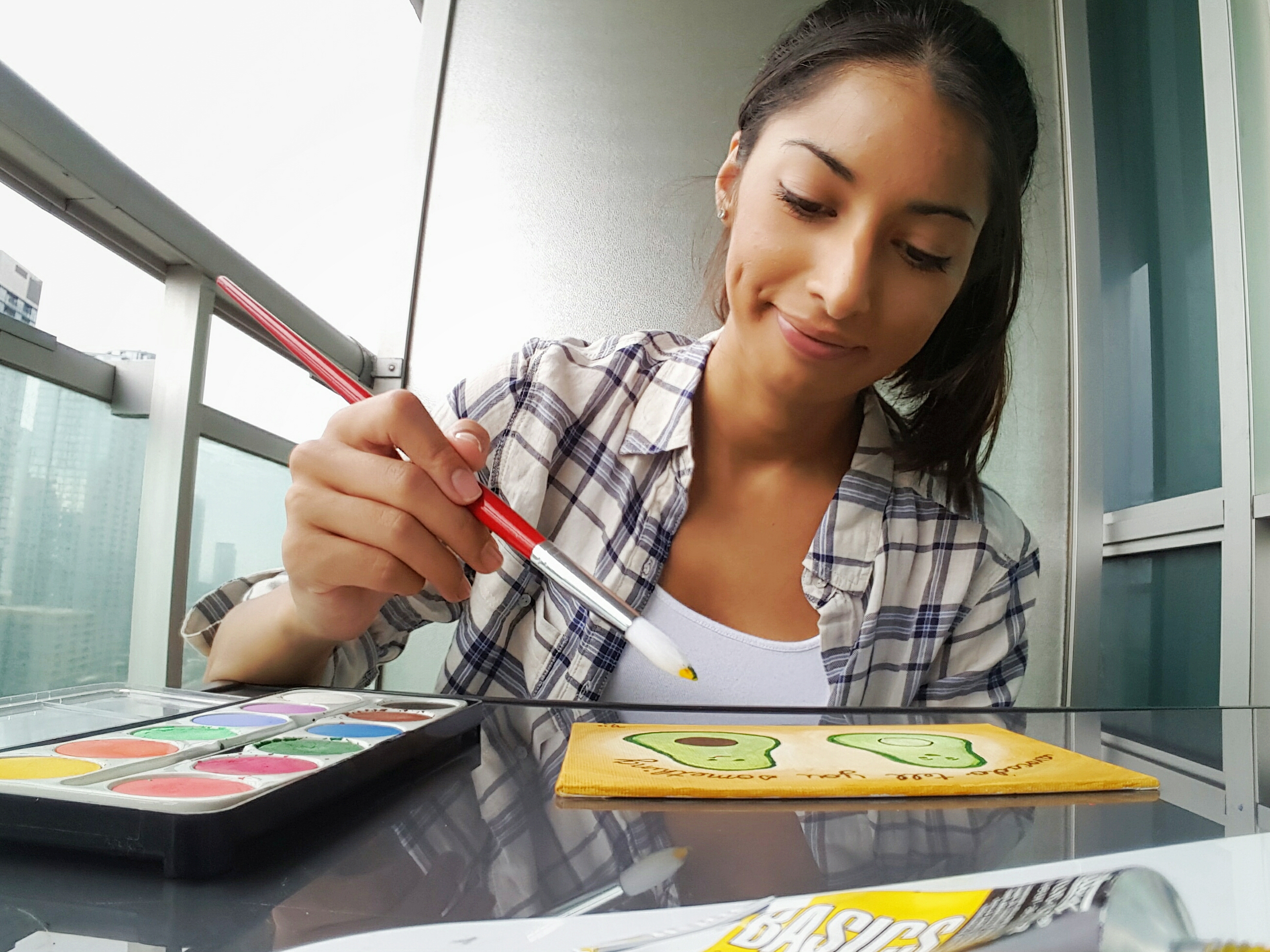 DoNUT ever give up – Meet Rhea from The Canvas Postcard
To Jup You UP today, here is a story about an artist who turned her love for puns and painting into a business.
Rhea and I have been corresponding on email to find a time to chat about her new found love.  I haven't seen her in a few months. In this short span of time, she has created an online shop called The Canvas Postcard. I can't wait to get on the phone to catch up with her on the latest happenings.
Rhea, thank you so much for sharing your story. Here at Jup You UP, we love to encourage others to find their passion and do something about it.
Before we find out more about The Canvas Postcard, could you share a bit about what you love, what you hate, and what gets you going?
"I LOVE anything that gets my creative juice going. I love playing the piano, going to museums, visiting artisan markets, and doing some baking in the kitchen."
"What do I hate? Um, I find the word 'hate' to be a bit strong.  There are things I dislike, and you may find this strange. I dislike wrapped foods! Those chicken wraps, burritos, and shawarmas, I feel like someone else is deciding my portion control. Is this strange? And it's messy!"
I know what you mean! Personally for me, tacos aren't my favourite foods. I always end up making a mess.  Now, what gets you going in life?
"Travelling, and planning my next adventure. Discovering  different cultures and experiencing the unfamiliar, which inspires and keeps me motivated."
I always enjoy seeing the pictures from your travel adventures. What's the story behind The Canvas Postcard. How did this idea come about?
"Well, I love painting but I never had the self confidence to put it on public display.  The Canvas Postcard was created, in part, because of the support of my older brother. He is someone I've always looked up to, who's opinion I value, and has always encouraged me to believe in myself.  One Saturday morning, we had a sibling date at this restaurant in the east end of Toronto. I tend to notice the decor and colour scheme wherever I go. So, when I walked into this restaurant, I noticed the artwork on the wall. Interesting, I thought. And, they were on sale! I paused and asked myself, why am I self conscious about my artwork? How come I don't sell my paintings? The owner invited me to showcase some pieces but I didn't have anything available at the time. This stirred up a conversation between my brother and I about why I haven't taken the leap of faith and started selling my paintings. That really got me thinking. As soon as I got home that day, I began brainstorming a business that I would really enjoy."   
Sometimes we need that nudge from a trusted friend or family member to step out of our comfort zone.  What did you do next?
"When I got home after our brunch date, I took a trip to Michaels for some art supplies. Living in a small condo in Toronto, it's hard to store large canvases at home. At Michaels, I came across these postcard sized canvases. Ah-ha! Perfect! A lightbulb went off. Why not postcard paintings?"   
Yes, ideas come as we go through the process. What a great example to remind us that taking the first step is the key. Can you share one or two stories about a postcard you've designed?
"I received a customer request to create a gift for her sister who is a knitting fanatic. She gave me tons of creative leeway. For this particular one, it was challenging to come up with a unique pun but, as the paint hits the canvas, everything started flowing. I was thrilled that the customer was happy with the result, and could express her appreciation to her sister in a personalized and unconventional way."
 What else makes The Canvas Postcard unique?
"It is a spinoff from traditional greeting cards. Instead of sending an expensive card which unfortunately in many cases end up being disposed of, The Canvas Postcard is a unique, fun, and quirky piece of art that can be customized to reflect the personality of the gift receiver.  All my pieces are pretty vibrant, so they add a splash of colour to any wall.  I always use high quality acrylic and oil paints to ensure my artwork is long lasting. You can customize the image on the front, and include your special message on the vintage postcard backing."
Rhea, thank you so much for inspiring us with your story. Do you have a message to share with our community for #mondaymotivation?
I love this! Thank you so much for this gift of encouragement to kick start our week. This postcard is available at Rhea's Etsy store. Be sure to visit www.etsy.com/ca/shop/TheCanvasPostcard to grab yours today, and check out her wonderful collection that is created to delight the people you love.
Jup's Ah-ha 
Rhea's painting is a reflection of the emotions and struggles we go through in life. Aren't there times we feel like this donut in the picture? The mountain that you're facing is getting steeper and harder to climb.  Sometimes, you feel stagnant and may not feel the progression taken by your footsteps. When that happens, put a headband on and keep going. Do you notice the word "ever"? It's imperative that you "donut EVER give up".