Your childhood dream? Meet Aileen from Sifted, your vintage boutique.
"Something in me said that I would never know unless I tried.  If I were to fail at least I tried. I wanted my kids to see that dreams can come true no matter how big or small.  I encourage them to dream always."
On a wintery Sunday afternoon, we visited Sifted, a vintage boutique located in Scarborough by Markham Road and Ellesmere. We met Aileen, the owner of Sifted, for the first time. Dressed in a decorative patterned sweater with her hair clipped to the side showing her undercut bob, Aileen greeted us at the front door. I admittedly told her that hairstyle is one that I've always wanted to do.
As we got comfortable in our seats, I looked around at the fixtures and noticed childhood pictures of her family, friends and customers on the Wall of Love. How interesting! I couldn't wait to kick off our interview and ask about her inspiration. 
Before we get into that, this was a great segue to ask our three signature questions.  What does Aileen love, what does she hate, and what gets her going?
Her love? She can't imagine living life without her family. She has a strong bond with her parents. A foodie at heart, she loves trying new foods, and particularly love Japanese cuisine. "It's never too cold for ice-cream," she said looking amused.  She loves to cook and is trying to get back into cooking.
Her hate? If there's one thing she could change, it's the nature of time. "Time goes by so fast!  I take care of the storefront and do custom sewing and alteration at the shop as well. So I must prioritize, and try to get the best out of everything."
What gets her going? Yoga helps Aileen stay focused and balanced with her extremely hectic schedule. A full-time mom with three kids, she looks youthful and chic. How does she do it?
The dream of opening her boutique clothing store had been on Aileen's mind for so long. "Sewing and selling clothes online were my side hobbies that turned into a full-time gig on July 3, 2016, when Sifted was opened. Prior to that, I was working full-time at a restaurant. Every day working at the restaurant, the thought about having my own store grew stronger and stronger as each day passes. I was exhausted from the long commute to and from work.  I was at the point where I felt that I might as well die if I don't put my creativity to work every day. So I told myself that I must take this step."
That was Aileen's tipping point. She was at the threshold where she must take a step out of her comfort zone. It's never easy to transform our ideas into reality.
"I began searching for a shop. I took a leap of faith. I had my eyes set on a smaller unit, but the layout wouldn't work with what I had in mind for Sifted. Then, my agent took me to this bigger unit. I could immediately visualize what I want. I knew this was the place!"
Once she had chosen her location, she reached out to design shops and nailed down an opening date. The strong relationship between Aileen and her mom was evident. She officially opened her boutique  on her mother's birthday.  July 3 was a special day to see the reaction from her close friends and family. "They told me, 'we've heard about it for years! And now, it's finally here,'" Aileen smiled. Since that day, Aileen has never looked back.
"In my elementary school yearbook, I wrote that my ambition is to start a clothing boutique business."
Growing up in the 80s inspired Aileen to have a nostalgic feeling for bold fashion. If Aileen could travel back in time, she would pick the art deco era. "Everything has a story back then. It has a classic look to it. The pattern, sewing, and gowns all have a signature look."
When she was younger, she loved to borrow her parent's clothes. "The quality is better back in the days. Nowadays, it's all about the fast fashion. Vintage can stay forever. Pair it with something new, and make it your own style."
Aileen  is spreading her passion and knowledge for vintage clothing. At Sifted, you can find unique vintage clothing for any occasion. Aileen hand-picks each one, cleans it, and adds it to the collection for her customers. You can also visit www.sifted.ca to shop online!  
What are some outfits she would recommend for chillaxing, meeting the parents, casual Fridays, or going to work? Ta-da! We have some fun with this question. Have a look!  Aileen even styled for me!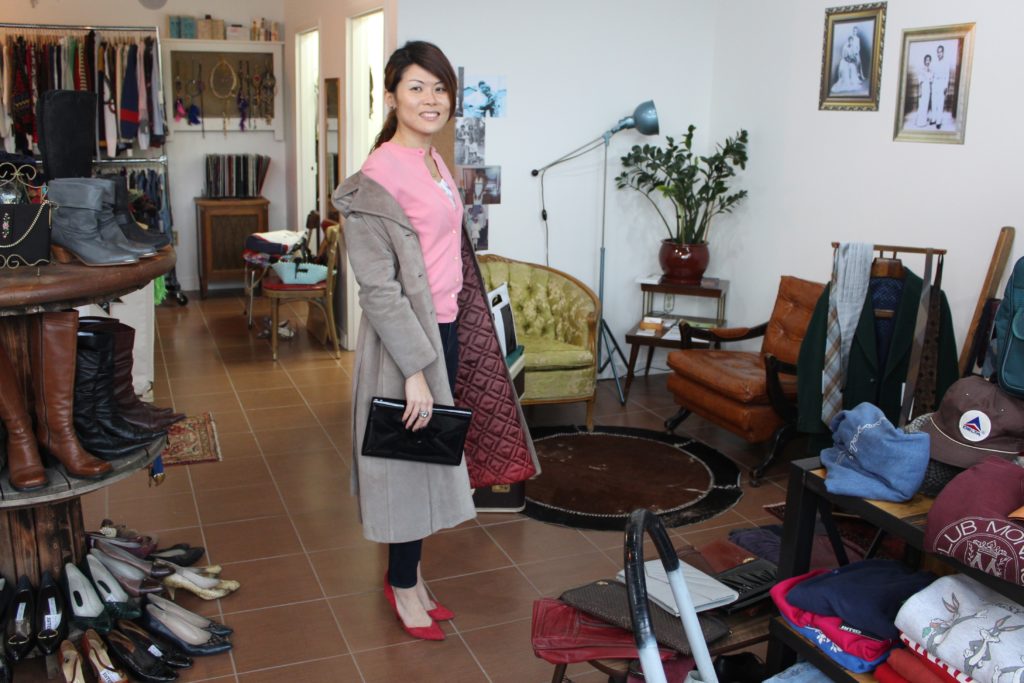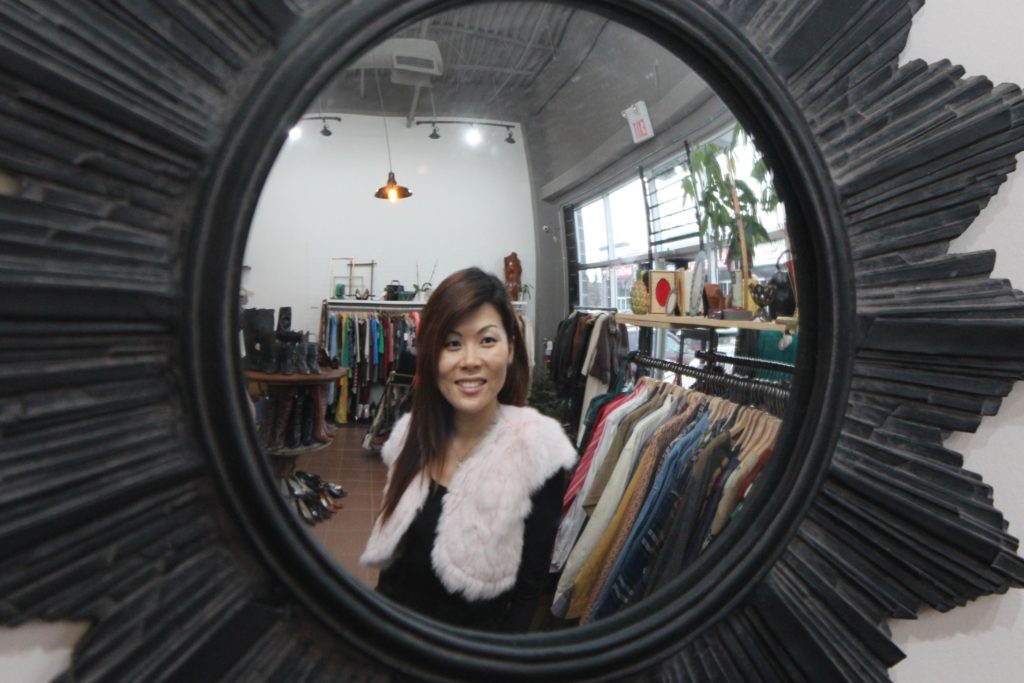 There aren't any other shops like Sifted in Scarborough. This is another reason why Aileen chose this location. "When we grew up, there isn't a boutique like this to help save time for shoppers looking for vintage goods. For the kids who can't travel to downtown yet, they need a place to hang out. I have a very cute customer who likes everything in here.  She said I'm her favourite person in the whole world!"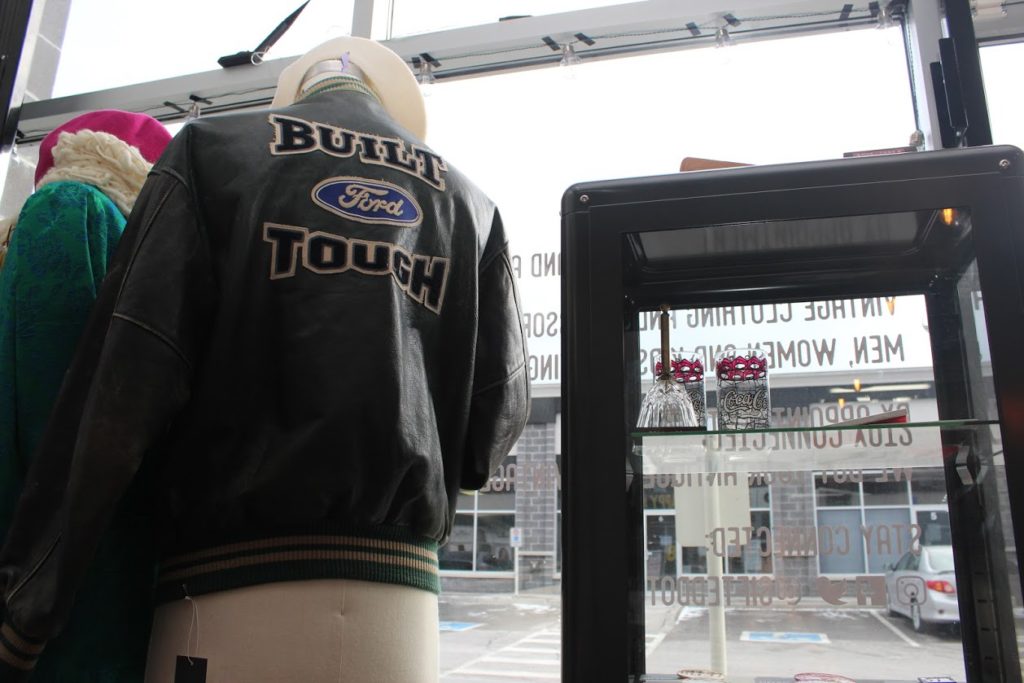 Aileen is extremely thankful for the support of her family and friends. "Wow, my friends are the best. They said just call if you need anything. On my opening day, they carried all the heavy stuff for me. And they volunteer to help whenever I need someone. They are great!"
With all the decisions that Aileen has to make as an entrepreneur, who does she consult when she needs a second opinion?
"I go to my close friends and family, especially my mom, who is very good at analyzing the situation and her advice is usually right."
Vintage clothing is one of the fashion lines offered by Sifted.  Aileen is working on new designs for her  Ama and Ina line, named after her parents.  "I want to create some sample collections, then take them to production."
We're very excited for Aileen and cannot wait to see her fashion line unveil.
What else is on the horizon for Aileen?
"I come from a generation of sewers. I desire to pass this lost art to the next generation and my kids."
Aileen will be hosting a booth at Toronto's first vintage and urban streetwear flea market on April 1, which happens to be her birthday. Drop by and wish her a happy birthday! "It's a streetwear market! So it's going to be amazing as all the best streetwear dealers will be there!" Be sure to save the date! 
Jup's Reflection
It's always a special feeling when you can write about someone's story and meet a new friend at the same time. Aileen's story reminds us again that you can find your passion in your daily grind.  Her childhood experience infuses so much inspiration for Aileen to create Sifted.  Does your childhood experience have a role in finding your passion?