Add graffiti at your event – Meet Corrie
Meet Corrie and Norman, the founder of Event Graffiti, a company specializing in printed décor.
I was delighted when Corrie accepted my invitation to be featured at Jup You Up. We met in person when my husband and I were planning for our wedding. Here's our story about how we met Corrie, followed by an interview with her.  
How we met Corrie and Event Graffiti
My husband, Hercules was thrilled when we found Event Graffiti. Three months before our wedding, I gave him a daunting task. My request for Hercules was to build a two feet tall marquee letter, but not just one. I wanted four marquee letters spelling the word "LOVE".
Hercules declined my invitation! This was too big of a project for us to undertake with less than 120 more days to go before our wedding day.  Deep down I knew he was right, but I was not ready to give up this idea.  I frantically scoured the Internet searching for a vendor.  Marquee letters became a hot trend in 2014, and they were in high demand for events, and especially at weddings.  I thought at the time, I hope there is a place that offers marquee letters for rent. Fortunately through a referral, we connected with Corrie Oliveira.  She recommended us to meet them and see the marquee letters in person at their studio in Woodbridge Ontario.   
When we first laid eyes on these beautiful marquee letters, we were mesmerized. "Wow," Hercules and I looked at each other. Thoughts began running as to how we could use these marquee letters at our indoor and outdoor wedding venue.
The letters are portable, free standing and powered by LED lights. They truly add something very special to the atmosphere.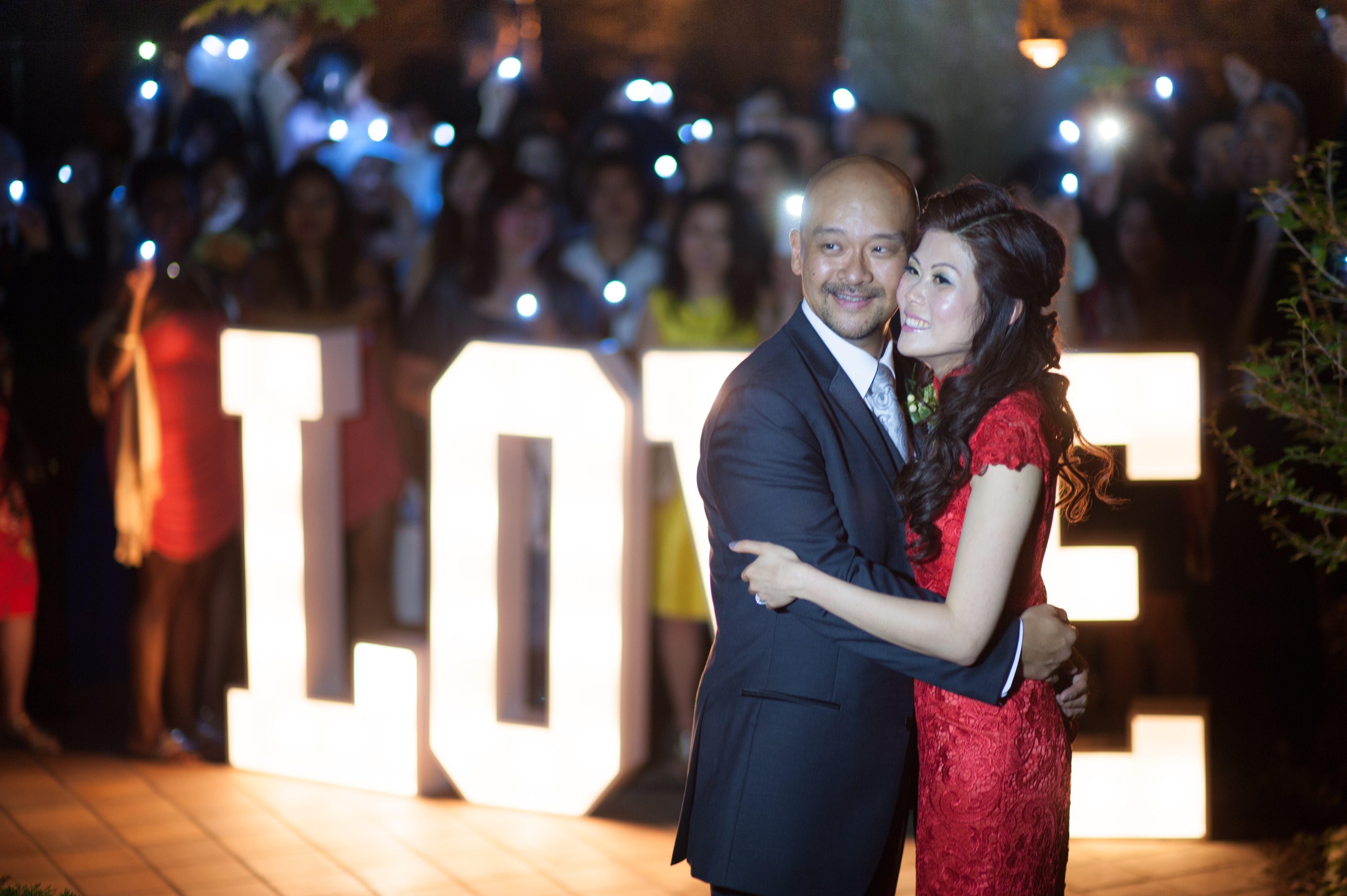 We loved working with Corrie and her husband Norman.  They are professional, personable and friendly.  I remembered the conversation we had at our last meeting. Corrie sent us well wishes for our wedding. Then somehow our conversation took a turn, and we naturally began chatting about what we love to do, our passion and how Event Graffiti came about.
Recently, Corrie and I reconnected.  I was excited for the opportunity to revisit our conversation –  what she loves about her role at Event Graffiti, and if she has any tips to share about managing a business.
Corrie, this blog Jup You Up is about finding our passion in our every day life. What do you love about what you do?
I love knowing that we are a part of someone's biggest day of their lives!  Our speciality is in printed décor. We help create beautiful memories by offering white vinyl and fully printed dance floors, marquee lights, backdrops, bar graphics and so much more.

You mentioned Event Graffiti was created 6 years ago. What gets you going every day?
I get excited when I can see the final work in pictures.  To put together an extraordinary event or celebration, many vendors partner together to deliver a one of a kind event for our clients. Often times, we never get to see the finished product as we usually finish setting up our part before the room is fully set up. So I always look forward to receiving pictures from our clients.  The anticipation leading up to seeing the full picture, and knowing that our clients are happy make my work meaningful.  
Can you tell me more about Event Graffiti? How did it all begin?
It all started when we were planning for our own wedding. The timing coincided with what my husband was doing at the time – large format printing and graphics for a few bridal shows. Our guests noticed our work at our wedding, and they asked about what we did for a living. Opportunities were presented to us but we took a pause for a little bit because we had two kids not long after our wedding.  Out of the blue, people started searching us out, and began contacting us. This was how our company Event Graffiti was created.  
Our portfolio has grown over the years. In 2015, we delivered over 160 events with most of them being wedding related ones and trade shows. We're excited to start tapping into the corporate market.  Event Graffiti was a corporate sponsor for the 2016 Canadian Special Events expo.
Any tips to share with others about managing a business?
Hire people to help you! That's my advice. It's very easy to be overwhelmed by all the details. And when you're bogged down by all the specifics and technicalities of your business, your energy level will be depleted fairly fast.  It's hard to be inspiring when you're feeling exhausted.  Ask yourself, are there things you can outsource to someone so that you can focus on the bigger picture?
What's new and upcoming for Event Graffiti?
A few things are coming up on the horizon. We'll be introducing more marquee signs. There is a big demand for heart shaped ones, numbers and anchor shaped lights. They will become available for rent or purchase fairly soon.  
Be sure to visit their portfolio at www.eventgraffiti.com and follow Corrie @eventgraffiti on Facebook and Instagram.
Jup's Reflection
I truly enjoyed the conversation with Corrie. When Corrie talked about her anticipation and excitement to see the final production in pictures, the word "patient" crossed my mind. I once heard a speaker saying that "BE PATIENT" is seldom mentioned in our conversation these days. We are in a society where money can be used to buy convenience or to exchange for the speed of service. So why would we need to learn to be patient in our generation? We demand things to happen NOW. Sometimes when we are in the grind, we don't see the fruits of our labour. But when we are patient with the process, we can look forward to seeing the final picture. It is a breathtaking one 🙂